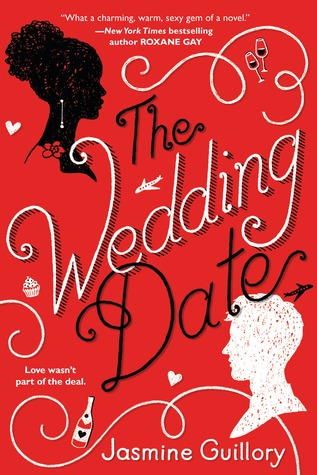 Author:
Jasmine Guillory
Genre:
Adult Contemporary Romance
Release Date:
January 30th, 2018
Publisher:
Berkley
A groomsman and his last-minute guest are about to discover if a fake date can go the distance in a fun and flirty debut novel.
Agreeing to go to a wedding with a guy she gets stuck with in an elevator is something Alexa Monroe wouldn't normally do. But there's something about Drew Nichols that's too hard to resist.
On the eve of his ex's wedding festivities, Drew is minus a plus one. Until a power outage strands him with the perfect candidate for a fake girlfriend...
After Alexa and Drew have more fun than they ever thought possible, Drew has to fly back to Los Angeles and his job as a pediatric surgeon, and Alexa heads home to Berkeley, where she's the mayor's chief of staff. Too bad they can't stop thinking about the other...
They're just two high-powered professionals on a collision course toward the long distance dating disaster of the century--or closing the gap between what they think they need and what they truly want...
Buy Link:
Amazon
I was expecting a little more from The Wedding Date, but I ended up enjoying it by the end.
The plot here is pretty simple--after getting stuck in an elevator with Drew, a hot doctor from Los Angeles, Berkley's mayor's chief of staff

Alexa agrees to be his fake date at his ex-girlfriend's wedding. Of course they fall in love after that, but lack of communication, physical distance and other problems keep them apart until their happy ending.
As you can see, the premise is pretty similar from lots of other books out there, but that didn't exactly bother me since The Wedding Date made up for the lack of "oh, this is new" premise with compelling characters, interracial relationship (Alexa is black and Drew is white) and a narrative that felt authentic when it came to the female main character's POV.
The thing I liked the most about this story was that both Drew and Alexa had fulfilling professional careers. I especially loved seeing Alexa as a powerful and important figure as the mayor's chief of staff (baby Olivia Pope, anyone?). She was great at her job and she developed an important program for kids in need that I wished we could see more in real life. Her relationship with her sister (and her sister's story overall) made for great moments, too.
There's also a compelling, sensitive and smart take on racial prejudice and privilege, with Drew opening his eyes to things he couldn't see before he met Alexa. The way Alexa faced people's prejudice was also pretty amazing.
There was a little bit of drama and angst because of Drew's past when it came to women and relationships, but I felt most of their problems could've been solved with a little talking. For two extremely smart people, they lacked skills when it came to communication.
The book was filled with cute scenes, though. Drew and Alexa had their moments and they had chemistry. It wasn't as strong as I normally liked, but it was there. Overall, this was a good debut.
*If you liked this review (or not), if you read the book (or not), come say hello and leave your comments bellow.